Every rifle has its advantages and disadvantages. Some rifles are super light, but not every hunter can shoot them accurately because of the increased recoil. Some great shooting rifles are just too heavy to pack up the mountain. In my experience, a rifle that is light as possible and still allows a hunter to consistently shoot 1 ½ MOA groups is adequate for normal ranges. Not every hunting rifle for 2015 is up for the job, but here are 10 that I would not hesitate to take on an once-in-a-lifetime hunt.
Although these selections are made with sheep, goats, mule deer, and elk in mind, no game, from Dall sheep to mountain grizzlies are safe with these rifles on the mountain.
1) Remington model 700 XCR II
A variation of the classic model 700, the XCR II is built for exactly what is says, extreme conditions. The stainless steel with TriNyte coating provides superb scratch and weather resistance. Although on the heavier side of the mountain rifle spectrum (7.3 pounds), the ruggedness of this rifle is well worth the weight. With a wide variety of calibres available in a dependable package, and Remington's trademark out of the box accuracy, this rifle is an excellent choice for the mountain hunter.
2) Kimber 84M Mountain Ascent
Kimber has built a great reputation for mountain rifles, but took it to another level with Kimber Mountain Ascent models. Weighing at 4 pounds, 13 ounces, it is the lightest production rifle in the market. The rifle is not only light, but attractive and it fits the shoulder as well as it carries. To top it off, the all-weather construction is able to withstand the nastiest mountain goat hunt. Besides this, the Kimber Adirondack rifle is also suitable for the job.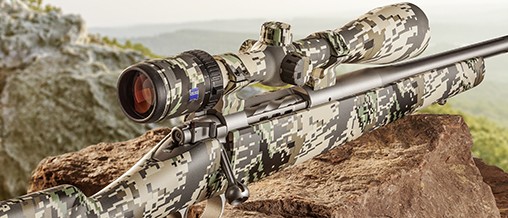 3) Winchester Model 70 Extreme Weather SS
Another variation of a classic sporting rifle, the Model 70 Extreme Weather SS holds its own on the mountain. At about 6.5 pounds, it weighs just about the same as a featherweight gun, but with a floated barrel, Bell & Carlson stock, and controlled feed pre-64 style action, it is far from delicate.
4) Double Broom mountain rifles
Although there are a lot of great custom rifles available, my longtime hunting partner Steve Hallenbeck (pictured) builds some of the best I have held. His guns, Double Broom Mountain Rifles, are lightweight and rugged. They are also accurate and beautiful. He uses several actions depending on taste, including Remington, Kimber, Bansner, and HS Precision, with fluted Lilja barrels, custom triggers, color choice of cerakote finishes and custom bedded synthetic stocks, as well as spiral cut bolts to reduce weight. The guns require about a 5-month lead-time before showing up at your door. These are fully custom rifles, in both standard and custom cartridges.
5) Savage model 16/116 FCSS
Although some turn up their noses at Savage guns, the accuracy these rifles offer is impossible to argue with. This model would be ideal for mountain hunts, weighing in at under 7 pounds, and featuring Savage's Accutrigger. This is a rugged rifle that can shoot with the best.